TR-29
Façades
Grafipol TR-29 is an expanded polystyrene (EPS) panel with low thermal conductivity, complying with the Spanish technical specifications of the UNE-EN 13163 standard whose specific raw material increases its thermal insulation power to the same density of conventional EPS.
With a thermal conductivity of 0,029 W/mK, this material is recommended for façades and vertical partitions in contact with uninhabited spaces where thermal insulation is a priority. Due to its excellent features and specific design, it enables compliance with standard requirements regarding energy savings as set in Spanish CTE DB-HE with minimum thickness.
Panels may be cut to size to adjust them to the height between storeys and avoid thermal bridges in horizontal joints. The panel's side cuts are mechanised as half lap joints for easy installation and to avoid thermal bridges in vertical joints.
It can be manufactured in any thickness without losing thermal properties, that means, without its thermal conductivity value worsening, as it is stable in all its thickness.
Construction detail
Application on façade with ceramic main sheet 1/2 feet, continuous coating, no air chamber, ceramic lining, with inner insulation
SECTION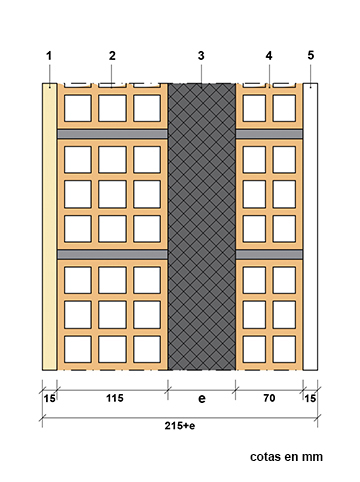 3D DETAILS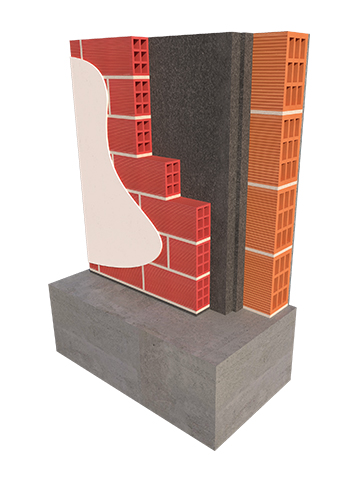 LEGEND
Continuous exterior coating: monolayer mortar
Main sheet: brick wall 1/2 used for coating
Thermal insulation: GRAFIPOL TR-29 (λ = 0,029 W/mK)
Ceramic lining: LH7 partition
Interior coating: plaster
Thermal insulation - Compliance with CTE - DB HE Dec. 2019
Weather area
Thickness "e"
(mm)
"U" thermal transmittance
of solution (W/m2K)
"U" thermal transmittance recommended
in accordance with schedule E -DB HE (Dec. 2019) (W/m2K)
α
40
0,49
0,56
A
40
0,49
0,50
B
60
0,37
0,38
C
80
0,29
0,29
D
90
0,27
0,27
E
110
0,22
0,23
Acoustic insulation - Compliance with CTE - DB HR 2016
Insulation of "RA" airborne noise
solution (dBA)
Insulation of "RA" airborne noise demanded
in accordance with DB HR 2016 in façades (dBA)
53 (1)
30 ≤ RA ≤ 47 (2)
(1) Value of the result obtained by an on-site test carried out by the Acusttel laboratory, nº 19.0211.CA.0019.
(2) Maximum and minimum values required in table 2.1 of the DB HR-4, depending on the use of the building and the noise index day of the environment.
Descriptive report
___m² of rigid expanded polystyrene (EPS) foam panel, Grafipol TR-29 SE «VALERO», in accordance with UNE-EN 13163, smooth surface and mechanised side ________, thickness of ___ mm, thermal resistance ___ m²K/W,thermal conductivity of 0,029 W/(mK), Euroclass E reaction to fire, EPS designation code ‐ EN 13163 – L(3) – W(3) – T(2) – S(5) – P(10) – BS250 – DS(N)2.
Customized cut panels
Possibility of exact longitudinal measures to adjust to the height between storeys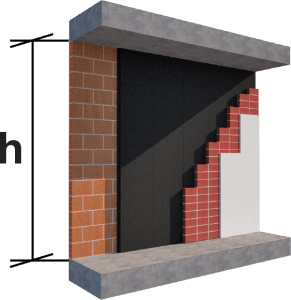 Customised panels + half-lap mechanised joint = lack of thermal bridges between beams
ENTER TO OUR ONLINE CATALOGUE WITH
150 CONSTRUCTION ELEMENTS AND MORE THAN 2.800 COMBINATIONS
FOR DIFFERENT TYPES OF INSULATION AND CLIMATE AREAS
– With calculated thickness for each climatic zone in accordance with annex E of DB-HE (Dec. 2019)
– Includes U thermal transmittance values for each solution, calculated with HULC
– Documentation available to download (.PDF, .DWG, .BDC, .BIB)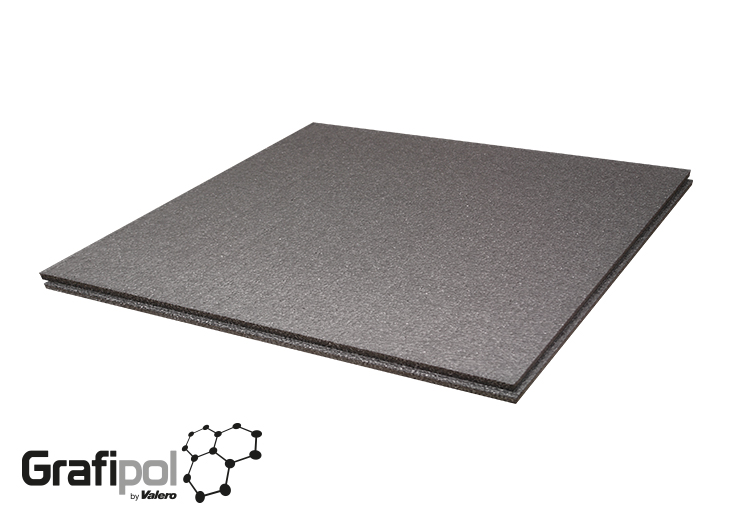 Thermal conductivity (λ) :
0,029 W/mK
Thickness(1):
From 10 mm
Standard lengths(2):
2000 mm and 2800 mm
Standard width:
600 mm
(1) Cut to size in multiples of 5 mm
(2) Possibility of cutting to size
Contact us for other measurements
Cut:
For more information, contact us