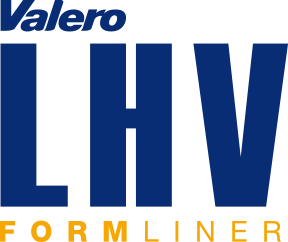 Multiple possibilities to personalize architectural concrete.
Plastic sheets characterised by Valero patented technology and ready to be applied on any type of formwork, both vertically and horizontally. They give concrete different textures and relieves in their final finishes and, can be completely adapted to customer design.
Their lightness and flexibility make them compatible with any formwork system in the market and they can be adapted to all types of contours, shapes and curves as required by the customer.
Valero's LHV Formliner is another milestone in the innovation of construction products, since offers customers a wide range of possibilities for personalising exposed concrete. No architectural concrete building, exposed frames, contention concrete walls, chalet perimeter fence, prefab concrete elements or any other kind of exposed concrete will ever be the same.
Their easy use and assembling and, great adaptability to all kind of surfaces thanks to our sheets, as well as their high resistance, make them a recurrent tool in concrete precast industry. Our exposed concrete sheet makes differentiating your products easy, cost-effective and original while adding value.
There are more than 50 models available grouped in three ranges: Wood, Stone and Form. They give texture to concrete elements with finishes imitating wood, natural stone or geometrical forms.
Moreover, Valero LHV Formliner's wood finishes are good for the environment by preventing tree felling, since by simply adding a layer of varnish to the finished concrete surface it will replace natural wood. It even lasts longer and does not require maintenance.
Due to Valero patented technology, this product gives architects and designers the opportunity to let their imagination fly and create designs that leave their own mark on their projects.
DESCRIPTIVE REPORT
__ m2 of composite sheet disposable "VALERO LHV", model ___________, incorporated to the internal face of the formwork, to obtain a concrete surface with an exposed texture finish.